Lessons Learned: Rivnuts Vs. Plusnuts
Having installed several dozen rivnuts as part of the sprinter van conversion and then have several of those rivnuts fail, I thought it might be a good topic of discussion for the blog, comparing rivnuts versus plusnuts.
TL/DR: I think plusnuts are a superior product and would highly recommend using these in critical situations (especially when pull out is a concern) instead of using 'classic' rivnuts. That being said, if rivnuts are chosen (price is a consideration) the right tools and correct installation is imperative. Plusnuts appear to be a little more forigiving and quite a bit more robust. Yes, plusnuts are more expensive, but (my opinion) they are a much better product.
---
The 'Classic' Rivnut
For the original build, I ordered 100 of these 1/4-20 rivnuts for use all over the van, including supporting the headliner and the bed frame. They were advertised with a rivet range of 0.5-3.5mm which seemed appropriate for the sheet metal of the van I was going into. I had never used rivnuts before so was fairly ignorant as to all the details I should have been looking for (still am pretty ignorant on the details for that matter).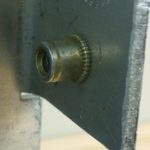 Upon receiving my package of rivet nuts I quickly realized that I didn't have the right tools to install them. Rather than buy the expensive, but highly recommended Astro Rivet Nut Installer, I built my own contraption to install the rivnuts utilizing a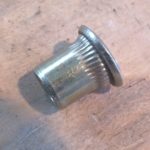 section of pipe that I welded a handle on to, a grade 8 bolt, a bunch of washers and a pneumatic impact wrench (see photos of tool below). The specs indicated that a 23/64-inch drill bit (or 9mm) was recommended for placing the rivnuts. I used a metric step drill bit. At 9mm it was a tight fit, but that helped the rivnuts seat better initially. While my custom tool was effective, installing the rivnuts was difficult and apparently not very effective. Several rivnuts failed to seat properly during the install process and 10,000 miles later, several more popped out. It was difficult to know how tight to get the rivnuts and when they were seated well or overtight. Since I never did get the install tool I am not sure if this tool would have helped this issue (Per the comment below – GET THE RIGHT TOOL! And the right sized drill bit, or suffer the wrong results).
So taking into account my mis-steps, wnot using the right tools, I shouldn't be surprised by my lack of good results with the rivnuts. Another problem is that the van sheet metal is pretty flimsy (no wonder a lot of the professional upfitters use all that reinforcement!) – the flange created by the compressed rivnut doesnt get very big so if your hole gets enlarged due to any number of factors (vibration, loading and unloading, etc), it pops right out.
Whatever the cause (some speculation in the comments below, which may be correct) lots of the rivnuts I installed popped out over time. Given that I now had oversized holes in my van (couldn't just put in another rivnut) and didn't want to change my 1/4-20 'standard', I took my questions to the internet!  My research lead me to plusnuts…
Pre-Bubled Plusnuts to the rescue!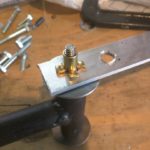 The biggest difference between rivnuts and plusnuts is the flange that is created when the nut is compressed. Whereas the flange on a rivnut is fairly small, but covers the entire circumference of the nut, a pre-bulbed plusnut expands significantly more when compressed, really grabbing onto the backside of the metal you are seating it in, in the shape of a plus.
After reading up on plusnuts I went ahead and bought a bag of 100, designed to fit my same 1/4-20 standard (that I have run throughout the van build) with a sheet metal thickness range of 0.02- 0.28 inches (0.5 – 7mm). After installing a half-dozen of them, I am a total believer in these plusnuts. They have been a significant improvement to the rivnut. I can think of the following major advantages:
Plusnuts are more tolerant of oversized (or damaged) holes
Plusnuts are much more easily installed (you really don't need an expensive tool for a plusnut)
Plusnuts exhibit much greater pull-out strength
Plusnuts have double the thickness range
I have much higher confidence in their ability to hold (look how big they are compared to the rivnuts!)
I am now going to be meticulously going through our van build and checking each rivnut installation to be sure it is adequate. And if it's not, replacing it with a plusnut. In this case, I really think a picture is worth a thousand words – so I will let the  below pictures speak for themselves. In the photos below I was actually trying to install both a plusnut and a rivnut side by side. But the rivnut failed to seat in the thicker aluminum bar (believe this was 3/16″ or so – which is, in all fairness, larger than the rivnut spec)